On Tuesday, 17 May 2022, MEP Irena Joveva spoke at the Committee on Culture and Education on the progress of the report on the impact of COVID-19 closures of educational, cultural, youth and sports activities on children and young people in the EU, to which she contributes as a rapporteur on behalf of the Renew Europe political group. She said, among other things, that children and young people need to be educated about mental health.
In her introduction, Joveva praised the current draft report, not least for including the importance of the educational, environmental and interpersonal aspects for the physical and psychological development of adolescents, which is then reflected throughout their lives, as well as the significance of sufficient financial support for educational institutions to adequately support pupils, students and teachers from a mental health perspective.
"It is also great to see the integration and mutual cooperation between the Union, Member States, local authorities and youth organisations to alleviate the impact of the epidemic."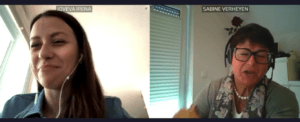 The MEP went on to point out that the draft report should also mention activities to supplement curricula with content that would teach children and young people about mental health. She also drew attention to the negative aspect of the use of digital education, which has also been evident among young people over the last two years. She explained that her main wish was to destigmatise mental health and, at the same time, to normalise help-seeking of all those in need of support. Joveva announced that she would also submit amendments to complement the report with an initiative to increase the number of appropriately trained staff to support young people in need.
"The report should also better address the problems of young artists who have abandoned their artistic projects, some even their artistic careers, because of the closure of institutions and the uncertainty created."
https://www.irenajoveva.si/wp-content/uploads/2022/05/Irena_CULT_1.png
514
904
Aljaž Debeljak
https://www.irenajoveva.si/wp-content/uploads/2019/12/vsi-logotipi-glava.png
Aljaž Debeljak
2022-05-17 09:39:07
2022-06-01 09:40:33
"Children and young people need to be educated about mental health"