Še prehitro je prišel zadnji dan pripravništva v ekipi #teamJOVEVA. Kljub temu sem si (v res udobnem stolu v pisarni) vzela minutko za poslednjo kavico in premislek o celotni izkušnji.
Na kratko o moji prvi politični preizkušnji v Bruslju
V začetku septembra me je vlak pripeljal v Bruselj na mojo prvo politično (pre)izkušnjo – pripravništvo pri evropski poslanki Ireni Jovevi. Spomnim se, kako sem pred meseci ekipi #teamJOVEVA na razgovoru priznala svojo največjo slabost, to, da nimam nobenih izkušenj v politiki. Po izobrazbi sem namreč okoljska znanstvenica in se v politične vode nisem aktivno spuščala. Z nasmeškom so mi zatrdili, da to včasih niti ni tako slabo. To mi je vlilo malce več samozavesti, da sem suvereno pričela z delom v drugače tujih vodah.
Kaj ima rolkanje z vsem skupaj?
Kadar nisem bila primorana delati od doma zaradi priporočil glede COVID, sem stavbo Evropskega parlamenta zapuščala okoli 18.00 ure zvečer. Te večerne ure sploh ni bilo težko dočakati, saj je bilo zanimivega dela vedno dovolj. Za povrh je bila po delu ura za pivo na Pluxu (kratko pojasnilo: »Plux« naj bi bilo urbano ime za Place de Luxembourg, trg pred parlamentom, posejan z majhnimi restavracijami in bari. No, sem kasneje od domačinov izvedela, da ta vzdevek uporabljajo le tisti, ki so iz »EU mehurčka«). Od strogo varovanih vrat parlamenta in pozdrava varnostnika sem se vsak večer sprehodila čez dvorišče, ki se je ob sončnem zahodu spremenil v najbolj trendi urbani skejt park. No, po skoraj dveh mesecih opazovanja sem se končno opogumila in se po službi še sama malo zarolkala. Ob anksioznem prestopanju na majavi rolki me je spreletelo to, kar je sedaj naslov tega bloga. Zame je rolkanje kot politika. Da ne padeš in obdržiš ravnotežje, se moraš priučiti par trikov.
Glavni vhod v Evropski parlament (če ga bo še kdo iskal, tako kot sem ga sama)
Časopis v roke in beri (vsako jutro)
Že ob prvem pogovoru z asistenti sem opazila, da je v politiki ključno, da si na tekočem. In to ne (le) v smislu, kaj je tvoja kolegica objavila na Instagramu in kaj sosed meni o nošenju mask, ampak se gre za podrobno razumevanje političnega dogajanja v Bruslju, Sloveniji in svetu. V času neverjetnega toka informacij je pomembno izbrati verodostojne in nepristranske vire. Sama sem vzljubila prebiranje časnika POLITICO ob jutranji kavi in po enem tednu so vsi neznani izrazi in imena postali znani. Stalna ažurnost in procesiranje informacij s prve roke sta mi omogočila oblikovanje lastnega mnenja, ki mu sedaj veliko bolj zaupam. Kombinacija jutranje kave in časopisa je definitivno navada, ki je odpotovala z menoj po koncu pripravništva.
Dovolj dobro je boljše kot popolno
Mislim, da v politiki ni prostora za perfekcioniste. Mogoče le v primeru, če znajo biti dovolj hitri. Veliko večjo vrednost ima dokument, oddan v času, kot dokument brez slovničnih napak. Za nekoga, ki prepogosto prokrastinira in 90% časa le premleva o nalogi, je bila to grenka lekcija. V parlamentu je preprosto preveč različnih tem, nalog in dogodkov, da bi si dovolili tuhtati v nedogled.
Brez podpore ne bo nič
Kot znanstvenici so se mi kar zaiskrile oči, ko sem dobila priložnost razmisliti o kakšnem amandmaju na okoljsko zakonodajo, na primer načrtu za krožno gospodarstvo. Če na kratko povzamem: ko Evropska komisija izda predlog zakonodaje, ima parlament možnost vložiti spremembe k temu dokumentu oziroma amandmaje. Z magisterijem skoraj v žepu in naivno samozavestjo sem imela občutek, da sem res najboljši naslov za preoblikovanje predlogov okoljske zakonodaje. Seveda sem kaj kmalu pristala na realnih tleh, oziroma, kot me je vprašal neki politik: »So you can create amendments, but do you know how to make them pass?« In prav je imel. Poleg vsebine in smisla spreminjanja zakonodaje je še bolj pomembno zagotoviti podporo drugih poslancev in skupin.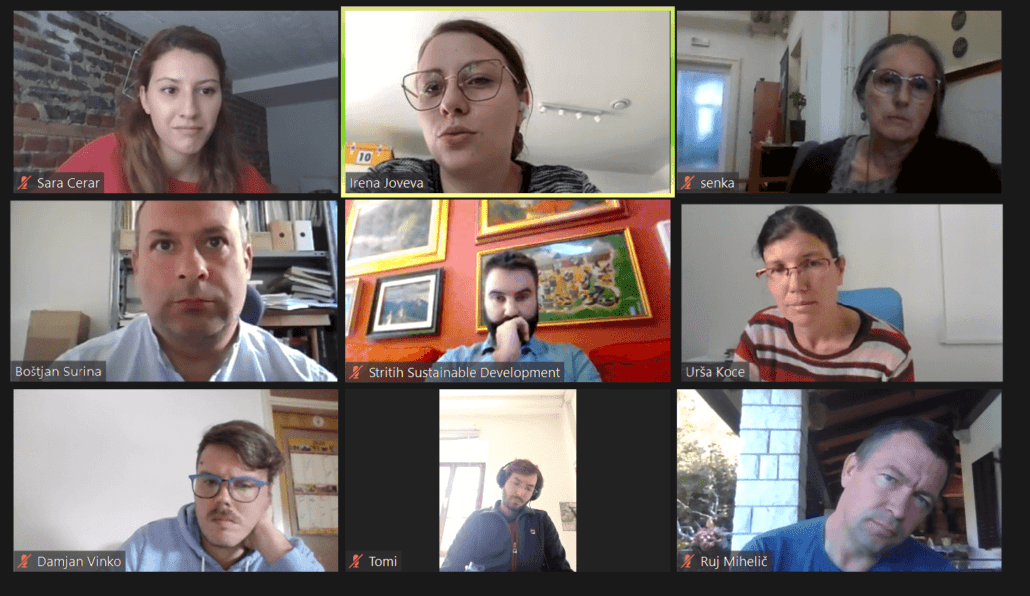 Eden izmed mnogih zoom sestankov. A ta mi je še posebej pri srcu, saj smo ga organizirali na mojo pobudo.
Politiko se bere med vrsticami
Verjetno še najbolj pomembna lekcija, ki sem se jo naučila. Za vsakim amandmajem, govorom ali izjavo stoji določena zgodba, interes ali strategija, ki vpliva na interpretacijo. Nekateri poslanci imajo močne vezi z različnimi sektorji, na primer z industrijo, nevladnimi organizacijami, itd. Tekom pripravništva sem se tako naučila kritične interpretacije vsebine ter razumevanja različnih interesnih skupin.
Sem se torej naučila rolkat?
Naj zaključim. Po vseh teh lekcijah vas zagotovo zanima, če že obvladam rolko oziroma politiko. Glede rolkanja lahko iskreno povem, da sem očitno naravni talent in si do sedaj še nisem popraskala kolena. Glede politike nisem tako samozavestna. Dva meseca v Bruslju, od tega večino časa »od doma«, sta mi omogočila le površinsko razumevanje delovanja politike. Kljub oteženi komunikaciji in nesigurnih okoliščinah sem sem se veliko naučila. Poleg spoznavanja delovanja Evropskega parlamenta in političnih procesov (za katere mislim, da sem le popraskala po površini), sem se med drugim priučila nekoliko drugačnega načina dela. Potreben je bil miselni preskok, da sem razumela, kako napisati "dober" briefing, ki je zelo drugačen od klasičnega "znanstvenega" poročila.  Kljub temu je bilo to dovolj, da me je motiviralo za ponovno vrnitev v politične vode v prihodnosti. Tako da, se vidimo!
Sara
PS. Vse se da, če se hoče. Kljub temu, da se z Ireno nisva uspeli v živo spoznati, imava skupen selfie!
https://www.irenajoveva.si/wp-content/uploads/2020/11/IMG_20201030_162029-scaled.jpg
1440
2560
Jasna Gerbec
https://www.irenajoveva.si/wp-content/uploads/2019/11/vsi-logotipi.png
Jasna Gerbec
2020-11-06 16:34:17
2020-12-08 16:01:05
Rolkanje po Evropskem parlamentu: Da ne padeš, se moraš naučiti par trikov