On Friday, 13 May 2022, MEP Irena Joveva participated in the event "Mental health in Europe: where do we stand? – Youth in the Spotlight", organised by the Renew Europe political group, where participants addressed the acute problem of mental distress among young people and presented some measures to reduce stigma around mental health. Among other things, the MEP stressed the need to normalise help-seeking in our society.
Mental illness, anxiety and distress have been on the rise for decades, both in Europe and around the world. Even before the COVID-19 epidemic, 84 million people had been diagnosed with a mental health problem in the EU alone (as many as one in six). According to the OECD, one in two people will experience a mental health problem in their lifetime and many of them will not receive the care they need. In her speech, Joveva expressed her concern about the growing negative trends and called for more decisive action in this field:
"Although the epidemic has exacerbated the mental health situation, the problem has been present in our midst for decades. It continues precisely because of the perpetuation of stigma attached to mental health problems. We need to take the necessary measures to reduce the stigma around mental health and normalise help-seeking in our society."
During the epidemic, the prevalence of mental health problems in people aged 15–24 doubled in most countries. The gravity of the situation is illustrated by the fact that suicide is the second leading cause of death among young people in Europe.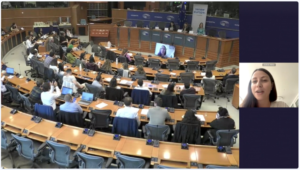 Joveva maintained that as long as mental health is stigmatised to such an extent, young people will not dare to seek help, which will inevitably lead to an even greater increase in mental distress. She believes that overcoming stigma requires education and providing people with the right information. This should start with mainstreaming mental health into school systems, while a frank conversation about mental health must continue with all members of our society (peers, parents, doctors, teachers, influencers, etc.).
Acting as rapporteur on behalf of Renew Europe, Joveva will contribute to a report on the impact of COVID-19 closures of educational, cultural, youth and sports activities on children and young people in the EU, where she says the main priority will be to focus on accessible, free and timely help for all young people with mental health problems, so that these can be coped with and overcome.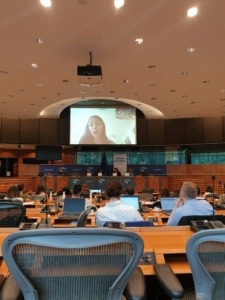 "The report will focus on the consequences of the epidemic and the lockdown that has caused younger generations to miss out on an important time of socialising, creating connections and spending time with their peers. We will look at the problems from the perspective that adolescence is a unique formative time in an individual's life and that the world around us has a profound impact on our mental health."
Joveva went on to explain that the mental health of children and adolescents is strongly influenced by the circumstances of their lives – their experiences with their parents and carers, their relationships with friends, and their opportunities to play, learn and grow.
She concluded by calling for an EU-wide plan to tackle mental health problems:"We need to facilitate dialogue and good cooperation between all Member States, local representatives, youth organisations, the education system and the private sector to create a comprehensive strategy that will deliver the desired results."
https://www.irenajoveva.si/wp-content/uploads/2022/05/slika11.png
512
904
Aljaž Debeljak
https://www.irenajoveva.si/wp-content/uploads/2019/12/vsi-logotipi-glava.png
Aljaž Debeljak
2022-05-13 07:53:06
2022-05-30 07:58:38
"Mental health: Help-seeking needs to be normalised in our society."