On Wednesday 20 April 2022, MEP Irena Joveva took part in an online debate with the European Parliament's Student Ambassadors entitled "If I Were to Decide" (Če bi jaz odločal(a)) on preventing addiction among young people. Unfortunately, addiction is not a rare phenomenon, and the young people taking part in the debate shared their views on the issue and explored possible policy solutions with MEP Joveva. They agreed that the most important thing is to prevent addiction from developing in the first place. Young people most often try drugs out of curiosity and to prove themselves to their peers, but they need to realise that they will only be really "cool" if they are good people, underscored the MEP.
Joveva began by outlining some facts about addiction that have come out of European research. Young people often turn to cigarettes and alcohol at an early age because both are relatively easy to access. The use of soft and hard drugs is also relatively high. The MEP is in favour of legalising cannabis for both medical and personal use, along the lines of some other European countries, but considers it important to regulate the quantities permitted for cultivation and possession, set age limits and restrict abuse. She takes a more radical view on hard drugs, wanting them to be eradicated completely. Just as worrying are non-chemical addictions, with addictions to electronic devices particularly on the rise. The pandemic has only exacerbated the problems in all areas of addiction.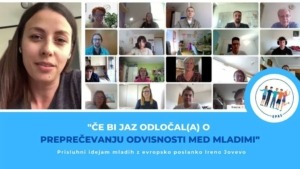 The initial exchange was followed by presentations by secondary school pupils, based on workshops organised in schools. Their main message was that it all starts at home. This is where the healthy development of adolescents with a positive self-image should be ensured. In the students' opinion peer relationships and other supportive environments – shaped by relatives, acquaintances, neighbours and teachers – are also very important. The students added that there is a lack of awareness-raising and education, both for young people and for the elderly. The MEP also highlighted the increasing pressures from the environment:
"Why is addiction a problem with many young people? They are looking for something to help them forget their problems, and it is usually due to these problems that they succumb to addiction. The epidemic has made things worse and you have made an excellent suggestion that young people should be taught how to resist these temptations. Especially during adolescence, when the temptations to prove oneself are even greater. As a society, we put enormous pressure on young people. We live in a world of competition and consumerism because we think it will make us happy."
According to Joveva, young people try drugs out of curiosity, but there are always deeper factors at play for developing addiction. A sense of self-worth can only be gained in a community, so we need to rethink our values as a society, she said. The various funds available within the European Union provide substantial resources for the implementation of addiction prevention programmes. In addition, it is also important to tighten controls over drug dealers and to carry out investigations which must lead to conclusion, that is to say, to the exposure of the criminal networks that control the market in illicit substances.
One of the proposals was to raise the age limit for buying alcohol and tobacco products. The MEP was critical of Slovenia's attitude towards alcohol:
"Every major event is an opportunity for a toast, so it is vital that adults behave all the more responsibly not to entice young people to drinking and to prevent them from coming into contact with alcohol. Raising the age limit is unlikely to help."
NGOs and help centres were also mentioned. Joveva said that these already exist, but there is a need for better information and awareness-raising about who young people and their parents can turn to. Cooperation between the responsible institutions at the national, regional and local levels is not effective enough. In the spirit of the time we live in, a special focus in the debate was placed on non-chemical addiction. This is a growing problem, faced by young and old alike. "Today we live in a world where many things are done digitally, and it is important to learn digital literacy at an early age. But the key is to know how to use technology properly," she said. She does not think that technological abstinence is a realistic option, as many functions cannot be performed without technology. "We should reduce the use of technology, use softer approaches or offer alternatives, but I don't agree with the stick approach, punishing bad behaviour. Adolescents need to realise themselves that spending so much time on the internet is problematic. In the long run, this is the only effective approach to take." She also reiterated the urgent need to change the value system of young people: "You aren't cool if you smoke and drink, you are cool if you are a good person!"
Watch the whole discussion:
https://www.irenajoveva.si/wp-content/uploads/2022/04/epasnaslovna-1.png
464
812
Aljaž Debeljak
https://www.irenajoveva.si/wp-content/uploads/2019/12/vsi-logotipi-glava.png
Aljaž Debeljak
2022-04-21 11:50:34
2022-05-03 11:56:17
"You are cool if you are a good person"