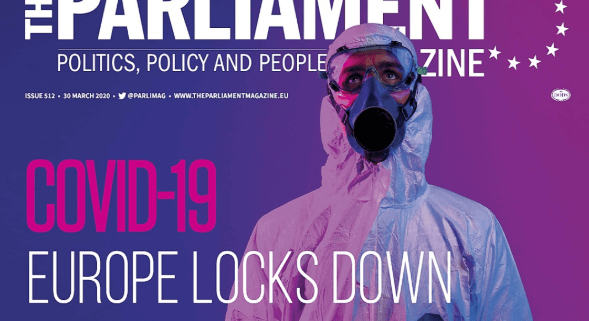 Today, 30 March 2020, an article on the deepening health crisis was published in The Parliament Magazine. MEPs Irena Joveva and her Slovakian colleague Martin Hojsik, both members of the Committee on the Environment, Public Health and Food Safety, have drawn up an article pointing to the rise in antimicrobial resistance. In their view, the coronavirus pandemic should also alert all lawmakers to the growing threat to health from antimicrobial resistance. 
Despite the severity of the current COVID-19 outbreak, the other, potentially more dangerous health panel, receives much less attention: Antimicrobial Resistance (AMR). Three years ago, the European Parliament stated at the AMR Danger Conference that now is the time to act. At the same time, a special annexe to The Parliament Magazine, Time to act, highlighted the continued rise in the number of deaths caused by antimicrobial resistance. For years, the European Commission has used outdated data with a mortality rate of 27,000 people per year. Although the figure was updated, with 33,000 casualties a year, it does not account for all infections. Hospitals are an essential source of AMR data. However, reporting of the rate of resistant infections via the European Antimicrobial Resistance Monitoring Network (EARS-Net) is still not legally binding on the Member States. Sales of antibiotics remain high, and the European Court of Auditors had little evidence in November 2019 to conclude that the Commission's activities are expected to reduce the health burden caused by antimicrobial resistance.
Antimicrobial resistance is the ability of microbes (such as bacteria, viruses, fungi) to develop resistance to effective antimicrobials, such as antibiotics. Even with the proper use of antibiotics, microbes can enhance their resilience; and when you then add the unnecessary abuse and overuse of antimicrobials in humans and animals, along with antimicrobial pollution, it is quickly accelerating.
AMR can reduce our capacity to fight such infections as life-saving antibiotics are becoming less effective. If nothing is done, the European Union and the world could face a dreadful antibiotic-free period, where surgery and even the smallest infections would be fatal.
You can read the article here.
https://www.irenajoveva.si/wp-content/uploads/2020/03/Zajeta-slika-1.png
440
589
Jasna Ružicki
https://www.irenajoveva.si/wp-content/uploads/2019/11/vsi-logotipi.png
Jasna Ružicki
2020-04-01 13:14:29
2020-04-07 13:14:56
A deepening health crisis