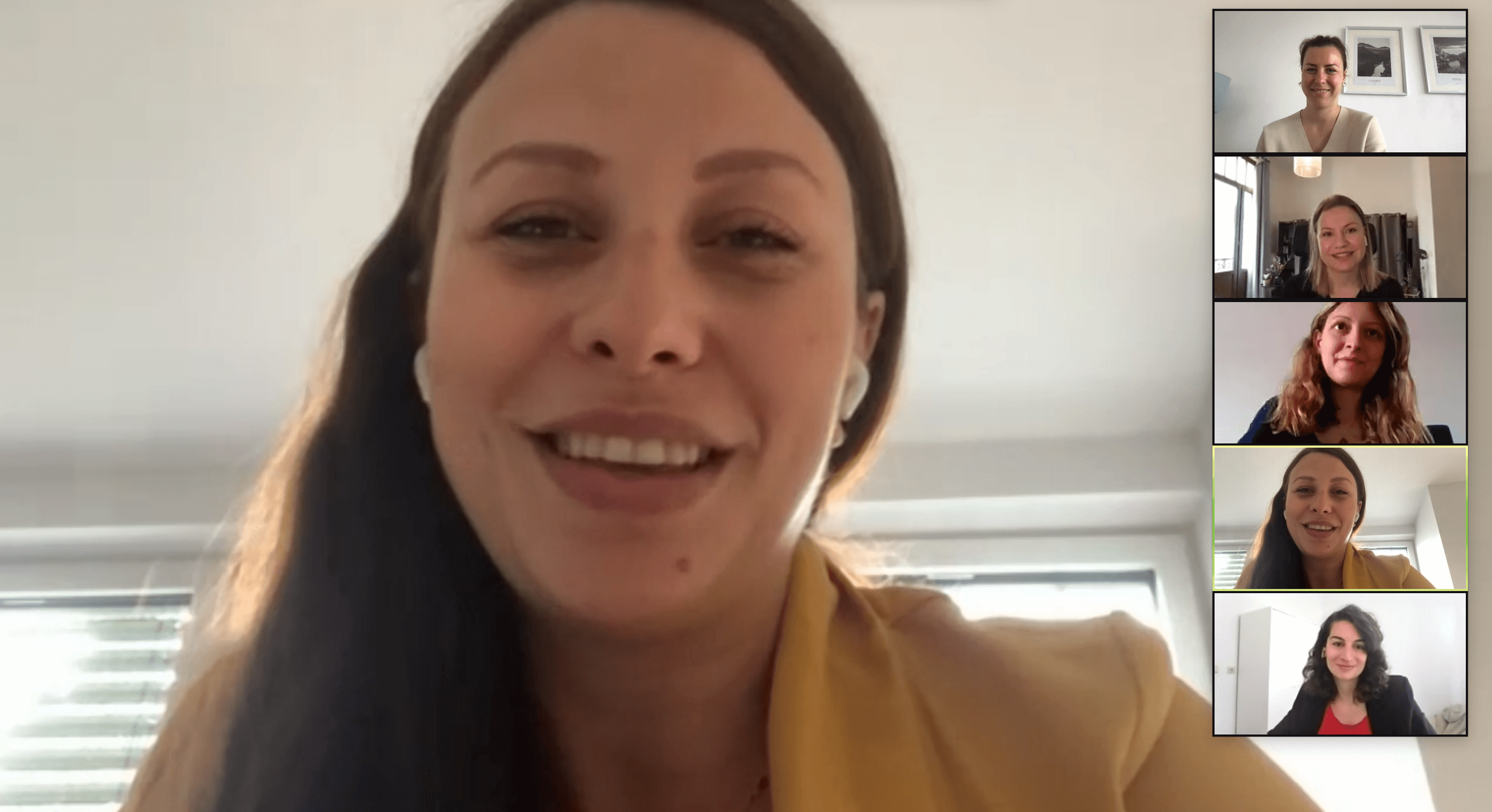 On Thursday, April 29, 2021, MEP Irena Joveva was the keynote speaker at the closing session of the European Youth Seminar of the European Parliament on the topic of the European Union's role in supporting press freedom and media literacy and the EU's role in curbing fake and fabricated news and disinformation. Joveva spoke to the young people from her experience as a former journalist and as an MEP.
An international group of students from Luxembourg, Poland and Lithuania attended the seminar. They were particularly interested in the role of the European Union in the fight against disinformation. Within the team virtual workshops in the morning, they were developing proposals, ideas and solutions that could improve the European media and social landscape in this respect, and then they presented them to the MEP and discussed them together. In her introduction, Joveva shared her personal story about the discrediting and fabricated news that were spread by her political opponents when she entered politics. "Nevertheless, it is important to remain authentic – not being able to bluff, being polite but also being direct and straightforward are my greatest qualities," she explained. "But fake news can do a lot of damage. Even if you identify them and try to correct them with an official statement, they have spread too widely until then," she said, explaining their ubiquity with the feather pillow phenomenon. Once you shake the feathers out, all can never be found and put away again. She advised young people to consistently report fake news and disinformation, as this is the only way to limit its spread.
During the workshops, all three working groups came to similar conclusions. Young people identified journalists as the most important guardians of relevant and truthful news. This is why they perceived a need for greater protection, including police protection in the event of threats. Immunity has even been considered to protect journalists from legal proceedings brought primarily to silence them or prevent them from publishing revelations of their investigative work. We would also give journalists free access to quality lawyers. They believe that online portals should suspend access to influencers who spread lies or disinformation, and they also attach great importance to the importance of education on safe internet use and how to identify fake news. They also saw a solution in online 'check points' where EU citizens could check the credibility of news. They also recognised the public and state media as the absolute bearers of media freedom.
Joveva agreed with their findings and added: "We have to realise that the problem is not only in all of the above, but also in politics itself, or the way politicians communicate with people, which is also the case with some European politicians. They are not honest with the people, and they do not believe and trust them. That is why instead of trusting politicians, people go online or to social media and follow people and news that are obviously fake but easier to understand. This is particularly evident now, in the time of pandemic. The journalists did their job correctly, but since politicians did not provide all and above all concrete and honest information, people, each in their own way, looked for it on the internet." She also stressed the importance of better working conditions for journalists who are often economically very vulnerable due to precarious employment. For this reason, they often prefer not to expose themselves by reporting on events or people that could threaten their existence.
She added that she was pleased that Commissioner Thierry Breton had recently presented the possibility of drafting European legislation on media freedom to the European Parliament. While the powers of the European Parliament and the Commission are limited, every effort must be made to ensure that the public service media remain at the service of citizens and not political parties. At the end of the meeting, Joveva thanked the young people for their participation and their great ideas. She advised them to remain active and involved in all processes and to keep in touch with their political representatives and regularly provide them with their opinions, comments, ideas and criticism.
https://www.irenajoveva.si/wp-content/uploads/2021/04/Screenshot-2021-04-29-at-11.23.26-1.png
0
0
Nina Maurovič
https://www.irenajoveva.si/wp-content/uploads/2019/12/vsi-logotipi-glava.png
Nina Maurovič
2021-10-19 10:59:49
2021-10-20 10:36:00
"You cannot correct fake news with an official statement as it does too much damage, too fast."