Today, on May 25, 2021, MEP Irena Joveva hosted a round table on the position of young people in society, social challenges and the situation after the corona crisis. Participants at the round table were: Ronja Gorenc Didanovič — student and vice-president of the European Youth Parliament Slovenia; Tea Jarc — president of the "Mladi plus" trade union; Tadej Jezernik — student and head of the tender preparation at the organization of Slovenian student clubs ŠKIS; Nik Prebil — MP of the LMŠ party and Vice-Chairman of the Committee of the European Union for Foreign Affairs; Marjan Šarec — MP and the leader of the LMŠ party. Together they were seeking for answers on how to solve the social situation of young people in Slovenia and how to approach young people at the European level and explain to them how the EU can help. MEP Renew Europe and a member of the Executive Board of the Conference on the Future of Europe, Guy Verhofstadt also contributed to the debate with a video.
MEP Irena Joveva was concerned by the fact that 75-and-more-years-olds explain their views on the future. With all due respect to the elderly, in this case, we must first look at the situation of young people today and then look ahead, together: "The recently launched Conference on the Future of Europe project is a great opportunity to review the situation, find solutions and, of course, implement them." Guy Verhofstadt also presented the functioning and motives of the Conference on the Future of Europe, pointing out that the world is changing very fast. These changes of the coming decades are leading to an entirely new society of Europe: "Europe will not survive this century if it does not change and reform."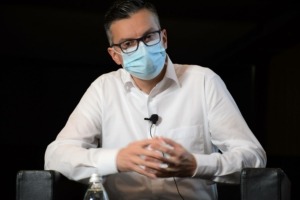 Marjan Šarec said that the participation of young people in politics was important, as was the awareness that they can only change something with politics: "Political parties must put young people on eligible places of the candidate lists and offer them the opportunity to prove themselves. If they do not get that opportunity, they cannot show everything they are capable of. Questions about young people can only be addressed successfully in a party that has an overview of all topics. One issue parties are not successful in this, that is why each party must have young people in its ranks."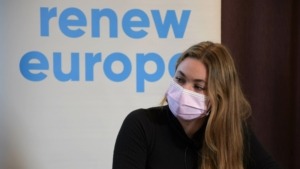 Ronja Gorenc Didanovič pointed out that the knowledge of the functioning of Europe and institutions among young people is still relatively poor, which is also due to the feeling of young people's distancing from decision-making processes. "It all starts in the education system – if you educate young people from an early age about the importance of politics, they are more receptive to its messages. On the contrary, they equate it with partisanship, power struggles and disputes, instead of thinking of it as a broader system and something that affects our everyday lives." It bothers her that the young people are only being asked about youth issues, instead of being actively included as participles in decision-making processes.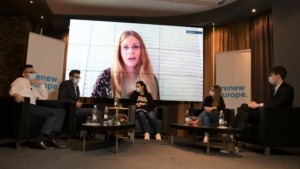 Meanwhile, Tea Jarc pointed out that young people are also socially active and responsible in non-political ways; therefore, civil society should be included in politics: "We have an above-average share of young people who are volunteers and want to help in this way. They are more open to diversity, acceptance and solidarity. Sometimes young people also fight in the streets and protests responding to what the country is changing into." She is concerned that young people are always the losers of crises, as irregular forms of employment make them the first to lose their jobs and consequently, they have problems with housing or creating a family: "Employment of young people for an indefinite period, on-the-job training, mentoring programs and confidence that young people are not an expense, but an investment should be encouraged." Hence, the treasury is being filled, added value created, recovery and economic growth, Tea Jarc added.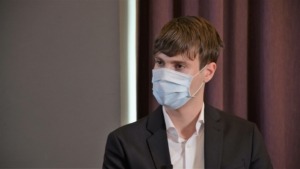 Tadej Jezernik sees good and accessible opportunities in European programs and policies for young people, but they need to be presented in a better way and moved closer to them. The housing problem is a huge issue: "We have many empty flats and at the same time flats with rents rising to the sky, completely inaccessible to young people, as it all starts with how much money they can spend on housing. At the time of the pandemic, we were oppressed and left at the mercy of financial government measures." Gorenc Didanovič also pointed out the fact that many young people, who lived an independent life before the pandemic, were forced to return to their rooms at their parents' house. She describes the reaction of the current government to the plight of young people as offensive.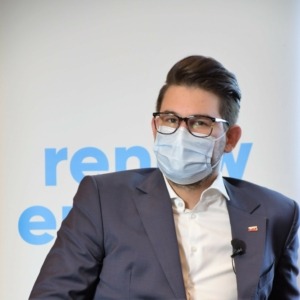 As a representative of the younger generation of politicians, Nik Prebil pointed out the fact that not all politicians are the same, which can be best demonstrated by work: "Decision-makers have to prepare appropriate policies that will be effective in the long term. Slovenia needs quality jobs with high added value. We will soon go through a green breakthrough and digital transformation, and some jobs will be lost or need to be transformed." He said it was good for young people to study and gain experience abroad, but politics must create interesting and attractive conditions to make them come back.
The interlocutors agreed that the key problem is the underestimating and patronizing attitude towards young people and insincere communication. MEP Joveva concluded the event by saying that the principle "nothing about young people without young people" should be upheld.
https://www.irenajoveva.si/wp-content/uploads/2021/05/DSC_6510-1-scaled.jpg
1440
2560
Nina Maurovič
https://www.irenajoveva.si/wp-content/uploads/2019/12/vsi-logotipi-glava.png
Nina Maurovič
2021-10-19 10:25:33
2021-10-20 10:34:34
Nothing about young people without young people